Large Industrial Site (bldgs/land) For Sale or Lease: Mexico, MO
For Sale or Lease: In Mexico, Missouri part or all of a large industrial complex. A nice corporate office and a shop/office complex are separated from the main plant by a Missouri highway. The main plant, approximately 16 acres under roof, contains warehousing/manufacturing space and several internal offices. A single rail spur enters the property and forks to four or five locations. The 144,000 square foot warehousing area has double rails on one side and truck docks on the other.

A lovely lake (appx. 30 acres) and some development property are on the 200 plus acres. Municipal water supplies the complex which sports its own water lagoon sewer system. Mexico has four lane access 20+ miles south to Interstate 70 which links St. Louis to Kansas City.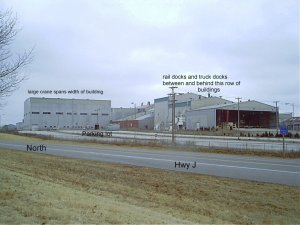 Click image to enlarge photo
Photo tour
If you would like to see the property online take our photo tour:
Location of the property
For more information contact Bob Lanphier at:

TB Management LLC
Wellsville, MO
Phone (573) 684-9954
Email info@reboundrubber.com

Copyright (c) 1995-2005 Rebound Rubber Recycling